Alla dritta (On the right way)
Sale price
$28.00
Regular price
$28.00
Tax included.
The shirts are slightly baggy. In case of indecision, we recommend the smaller size.
Estimated delivery (day/month):12/12 - 14/12

Free Shipping: for two items in Italy and over 140€ in the USA.
Shipping
Free shipping for orders of at least two items in Italy or for orders over 140€ in the USA.
For other orders the costs are:
- Italy: €5.90 for orders containing one item only;
- Europe: €19.90
- USA: €34.90
Delivery in Italy takes place in 3-5 working days. For America it takes about 10-15 days.
Return
For Italian addresses: it is possible to request a return within 14 days from the delivery date by contacting us at ordini@lukeandpole.it , in the chat on the site or on our social networks. The first size change is made free of charge. In the event of a refund request, the return shipping is the responsibility of the customer.
For non-italian addresses: the return is free of charge only if there's a mistake in the order or the goods arrive damaged.
- 100% GOTS and Fair Trade certified organic cotton for the correct use of raw materials and workers;

- 100% recyclable and plastic free boxes and shipping materials;

- Free shipping for purchases containing at least two items and free size exchange;

- When we are famous you can say "I was there from the beginning".
"Sorry, your shirt is backwards"
No, it's Alla dritta. Luke & Pole presents the first shirt that is worn inside out, proudly displaying the label and seams. Perfect for surprising the ladies at the supermarket or in line for communion.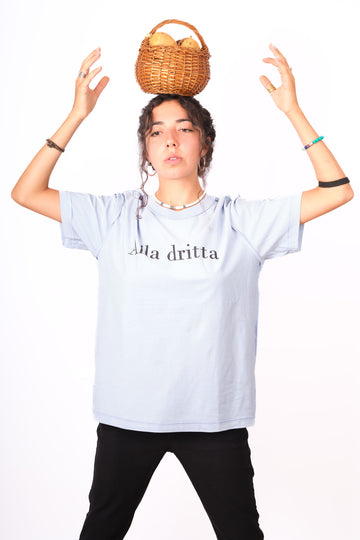 "If life seems to be going backwards, stop and check that you've turned it right."
Ettore Camaradei